Individually unloaded products
Do you have a load of soil, sand, gravel, waste, rubble, green waste, trees, etc. that must be transported urgently? Depending on the weight that needs transporting and whether you will be loading and unloading the load yourself, we can supply a crane truck with a grabber and/or a container truck or a tipper. We will gladly provide advice about the correct method of transport without obligation.
We have different tippers available for you with different load volumes and loading capacities. We will supply the best suitable tipper depending on your situation. The loading volumes vary from 10m³ to 40m³. The loading capacities also vary from 6 metric tons up to 25 metric tons. Which types of tippers can Demets supply? Depending on the job, we may recommend that you choose one of the following tippers.
Our container trucks are equipped with a hook arm or a cable system. This last attachment is very useful when you need to work with the vehicle in confined spaces such as a covered or underground car park. The different container trucks have a loading capacity that varies from 6 metric tons up to 18 metric tons.
Tipper with crane and grabber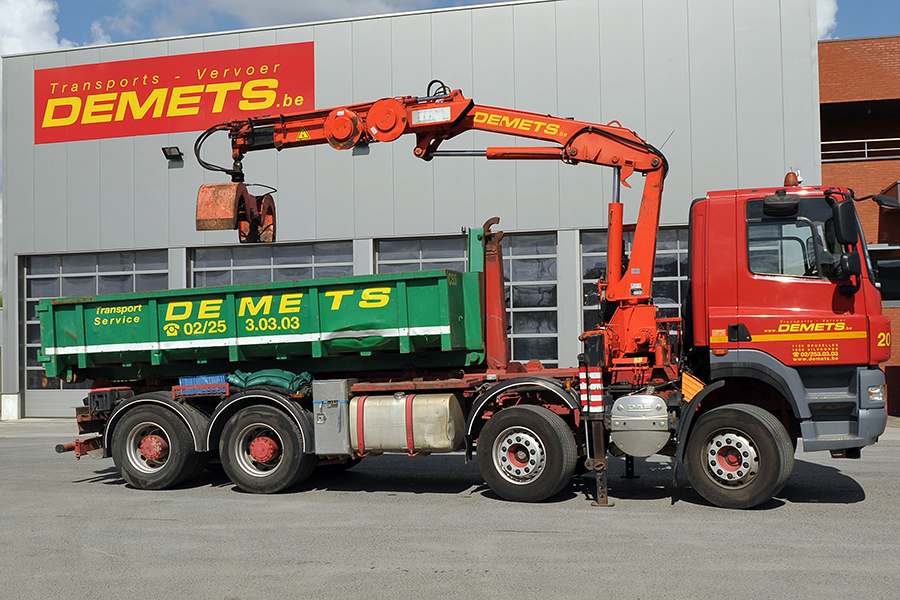 We also have tippers with a crane and grabber for special cases. They have a loading capacity of 9 metric tons and a loading volume of 10 m³. We also have container trucks equipped with a loading crane and grabber. They have a loading capacity of 12 metric tons and can be equipped with containers with a volume from10 m³ to 40 m³. We have different grabbers in our range:
A grabber for soil, stones, waste, sand or rubble
A grabber for long objects such as logs, pipes and metal sheets
Stone grab
Pallet forks
Grabber for old metals
Grijper voor grond, stenen, afval, zand, puin
Grijper voor lange voorwerpen zoals boomstammen, buizen, metalen profielen
Steengrijper
Palletgrijper
Grijper voor oude metalen
The tipper trailer has the largest loading capacity: 25 metric tons and a loading volume of 20m³. The trailer can be closed using tarpaulin if required. We also have tipper trailers with insulation for the transport of hot asphalt.
Why choose Transport Service Demets
Our services are available 24/7. We can also immediately cater for your demand. We are also ready to help with regard to highly urgent requests.
We will always find the right solution for your transport problem within our extensive fleet.
You can always count on our staff. Punctuality is exceptionally important to us as it is to you.